The delicious Thai Curry recipe is both vegetarian and vegan. If you want a healthy dinner packed full of bright flavors and hearty vegetables, this is the recipe for you. If you have a can of coconut milk at the ready, this recipe will come together very quickly and will deliver a ton of flavor.
A traditional, fiery-red Thai curry simmered with assorted vegetables, goes well with steamed rice. The basil leaves lend their characteristic aroma to this dish, while coconut milk balances the spices.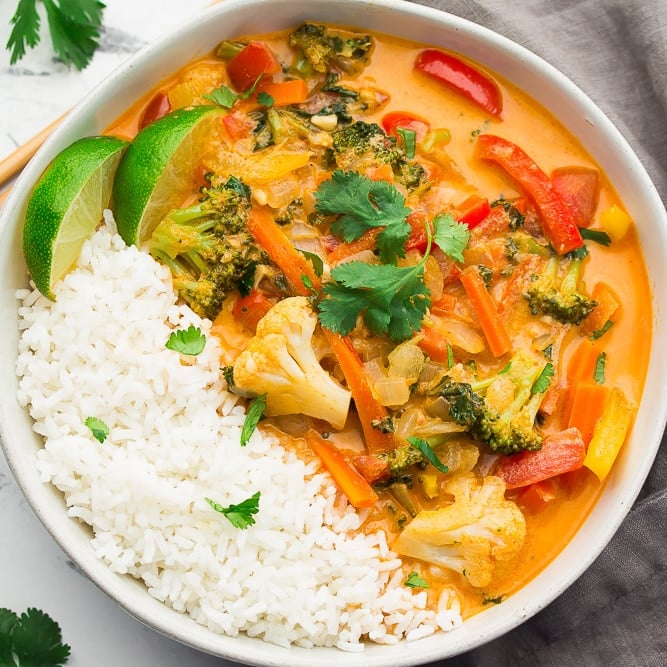 Ingredients
200 grams broccoli chopped
1 cup baby corn sliced
1 cup zucchini sliced
1 cup mushrooms washed and sliced
½ cup cherry tomatoes
1 piece galangal
4 Kaffir lime leaves
2 cans of coconut milk
2 cups water
20 Thai basil leaves
3 tbsp Red Thai curry paste
10 cloves garlic finely chopped
2 tbsp cooking oil
Method
In a big pan add the oil and garlic and heat till the garlic becomes golden.
Add 2 cups of water to the pan and add the red curry paste. Add the kaffir lime leaves.
Add the whole galangal piece as is into the pan.
Add the coconut milk to the pan. Cook for about 10-15 minutes.
Add all the veggies except for cherry tomatoes. Simmer for 10 minutes
Turn off the heat and add cherry tomatoes for some colour.
Garnish with basil leaves and serve hot with Sticky rice! Enjoy!
The same recipe can be used for a Non-Veg curry without the veggies. You may add prawns/chicken!
Gourmet Garden India's first and only patented contamination-free hydroponic farm functions on the "harvest to order" concept to ensure that all fruits and vegetables are delivered fresh within 24 hours of harvesting to your doorstep. Choose from our wide range of fruits, vegetables, bread, cheese, oils, dips, sauces, etc.
Choose Healthier, Choose Fresher, Choose Better!