The benefits of green vegetables need no retelling. One such healthy vegetable is bottle gourd (popularly referred to as lauki or kaddu). Known by different names like calabash, white-flowered gourd, New Guinea bean, Tasmania bean and long melon, it has a host of benefits. Not only does it have a cooling effect on the body, but is quite beneficial for the heart and even helps reduce sleeping disorders.
Today we are going to talk about the most unusual combination of Lauki & Gram Flour which come together to make unbelievably Healthy & Yummy Kebabs. The kebab just melts in your mouth and gives every vegetarian a reason to rejoice.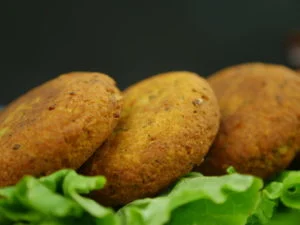 Ingredients
4 cups bottle gourd grated, tightly packed
1 tsp cumin seeds
1 tsp garlic finely chopped
2 tbsp gram flour
2 tbsp fresh coriander
2 tsp ginger finely chopped
1 tsp green chilli chopped
Salt to taste
1 tsp coriander powder
1 tsp mango powder
Oil for pan-frying
Method
Dry roast the cumin seeds. Add the garlic. Sautee till slightly golden.
Add the bottle gourd. Sautee till excess water evaporates. Now leave it to cool
Once cool, mix in the gram flour and remaining ingredients.
Shape into flat round tikkis and pan fry to make crisp and tasty kebabs.
Serve with mint chutney.
Gourmet Garden India's first and only patented contamination-free hydroponic farm functions on the "harvest to order" concept to ensure that all fruits and vegetables are delivered fresh within 24 hours of harvesting to your doorstep. Choose from our wide range of fruits, vegetables, bread, cheese, oils, dips, sauces, etc.
Choose Healthier, Choose Fresher, Choose Better!