In Hindi, khatta means sour and meetha means sweet. Sweet, sour and hot flavors combine beautifully in this delicious vegetable dish.
Eggplant is rich in phytonutrients (naturally occurring nutrients that help fight disease-causing free radicals) and dietary fiber. We always joke about how we have never met an eggplant we did not love! This dish is no exception. Khatta ​meetha baingan is made with small baby eggplants and is of North Indian origin. It is a great dish to eat by itself or with hot chapatis (Indian flatbread) or freshly made basmati rice. You can also serve it as a really substantial side dish as part of a larger more elaborate meal.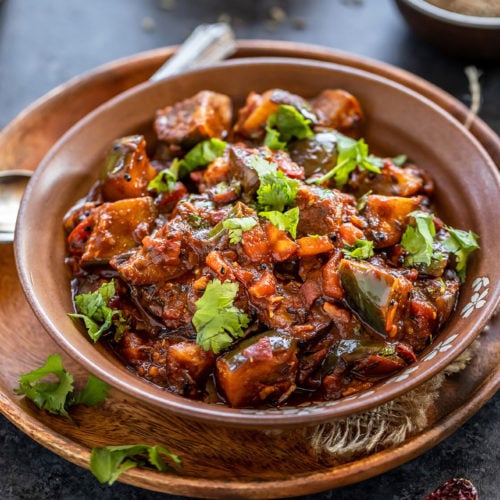 Ingredients
10 baby eggplants
6 curry leaves
2 dried red chiles, or green chilies, slit lengthwise
1 teaspoon cumin seeds
1 teaspoon black mustard seeds
1 teaspoon grated ginger
1 teaspoon very finely minced garlic
1 tablespoon coriander powder
1/2 teaspoon turmeric powder
1/2 teaspoon red chili powder
1 teaspoon vinegar
2 large tomatoes, finely chopped
3 teaspoons tomato ketchup
Salt, to taste
2 tablespoons vegetable oil or canola oil, or sunflower oil
Chopped fresh cilantro leaves, for garnish
Method
Trim the stems of the eggplants very slightly at the tip and then slit the eggplants into quarters in such that you don't go all the way up to the stem. Leave a bit uncut as this holds the quarters together.
Heat the cooking oil in a pan and add the curry leaves, mustard and cumin seeds. When they stop spluttering, add the grated ginger and finely minced garlic and sauté for a minute.
Now add the dried chiles and sauté for another minute or two.
Add the coriander, turmeric and red chili powders, vinegar, tomatoes, tomato ketchup and stir to mix everything together well. Sauté for a minute.
Now add the trimmed and slit eggplants, sprinkle with salt to taste and cook till the eggplants are tender.
When done, turn off the heat and garnish the dish with the chopped coriander leaves.
Serve with freshly made, hot chapatis (Indian flatbread) or parathas (pan-fried Indian flatbread).
Gourmet Garden India's first and only patented contamination-free hydroponic farm functions on the "harvest to order" concept to ensure that all fruits and vegetables are delivered fresh within 24 hours of harvesting to your doorstep. Choose from our wide range of fruits, vegetables, bread, cheese, oils, dips, sauces, etc.
Choose Healthier, Choose Fresher, Choose Better!