Kale is a leafy, dark green vegetable (sometimes with purple coloring) full of nutrients and flavor. It belongs to the same family as broccoli, collard greens, cabbage, and cauliflower and is full of vitamins and minerals.
Rich in calcium and potassium, kale has a good amount of fiber to help keep your bowel movements regular. It contains antioxidants that help prevent cell damage and may also help protect against cancer. You can also count on kale and its nutrients to help support the health of your eyes, immune system, and heart.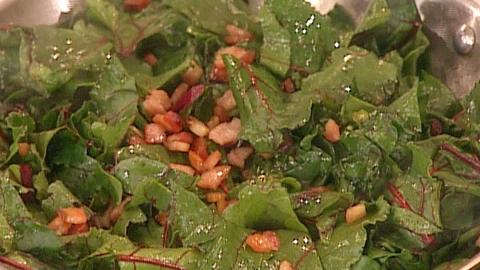 Ingredients
1 tbsp extra virgin olive oil
2 tsp extra virgin olive oil for dressing
2 cloves garlic sliced
2 cups cherry tomatoes cut into quarters
1 ½ tsp fresh thyme leaves
500 grams of boiled, chopped kale leaves
Salt to taste
Ground pepper to taste
Method
Take a large skillet and add the 1 tbsp of olive oil on medium heat.
Add the garlic and cook till golden.
Add the cherry tomatoes and thyme and cook for 2 mins.
Add kale and cook for another 2 mins.
Season with salt and pepper and drizzle with 2 tsp olive oil and serve!
Gourmet Garden India's first and only patented contamination-free hydroponic farm functions on the "harvest to order" concept to ensure that all fruits and vegetables are delivered fresh within 24 hours of harvesting to your doorstep. Choose from our wide range of fruits, vegetables, bread, cheese, oils, dips, sauces, etc.
Choose Healthier, Choose Fresher, Choose Better!