Habanero peppers are one of the hottest peppers recorded in history. The rich antioxidant and phenolic compounds explain the benefits of habanero pepper. It is a member of the capsicum family and has many benefits. Habanero pepper may reduce cancer risk, promote weight loss, lower cholesterol levels, and protect against cardiovascular disease.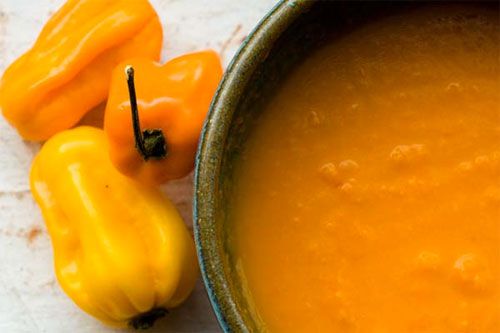 Ingredients
10 Habanero peppers seeded and halved
6 cloves garlic smashed
2 tbsp olive oil
1 cup carrot chopped
1 onion chopped
1 ½ tsp salt
2 cups water
60ml lime juice
60ml white vinegar
Method
Preheat the oven to 220 degrees Celsius.
Place the habanero peppers and garlic on a baking tray and sprinkle with 1 tbsp olive oil.
Roast for 10 mins.
Add the remaining olive oil to a large pot and place on heat. Add the carrot onions and salt. Cook for 4 mins.
Add the water, vinegar, lime juice and peppers and stir. Bring to a boil and simmer for 10 mins.
Remove the pot from the heat and cool.
Once cool, pour the mixture into a blender and puree until smooth.
Pour your hot sauce into a jar and store in a refrigerator for up to 2 weeks!
Gourmet Garden India's first and only patented contamination-free hydroponic farm functions on the "harvest to order" concept to ensure that all fruits and vegetables are delivered fresh within 24 hours of harvesting to your doorstep. Choose from our wide range of fruits, vegetables, bread, cheese, oils, dips, sauces, etc.
Choose Healthier, Choose Fresher, Choose Better!