King of vegetables, potato is quite a versatile ingredient with which you can prepare any kind of dish, be it savoury or a sweet dish. This appetizer recipe is one such dish where the main ingredient is potato. This Thai recipe is prepared by cutting the potatoes in wedges and then deep-frying them in refined oil. These potato wedges are further tossed and cooked in ginger mushroom sauce, which is prepared using corn flour, mushrooms, soy sauce, ginger, garlic, green chilli, spring onions apart from other.
There are so many veggies that go in with this side dish recipe which further make it full of distinct flavours and aroma. The pungent flavours of garlic mushroom sauce mixed with the potatoes gives away the deliciously good taste. You can even enjoy this dish as an appetizer and treat your loved ones. Try this easy recipe and enjoy with your loved ones!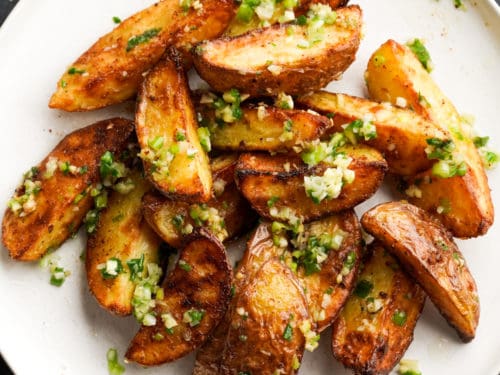 Ingredients
10 potato wedges
½ cup ginger sliced
1.5 cups mushroom sliced
1 tbsp garlic finely chopped
½ cup onion diced
½ cup green capsicum diced
Salt to taste
2 tsp sugar
Pepper to taste
1.5 tbsp soy sauce
1 tbsp vinegar
Oil to deep fry
1.5 tbsp cornflour
2.5 cups water
½ cup coriander chopped
Method
Heat oil and deep fry the potato wedges. Once cooked, remove and keep aside.
In a wok add 2 tbsp oil and sautee the garlic till golden.
Add the ginger slices and saute further. Now add the onion and capsicum and saute for a minute.
Add the mushrooms and cook for another minute.
Add the salt, pepper, sugar, soy sauce and vinegar.
Toss the mixture and add the water and bring it to a boil. Add the cornflour to it.
Stir the sauce and let it boil till thick.
Add the fried potato.
Garnish with coriander and serve!
Gourmet Garden India's first and only patented contamination-free hydroponic farm functions on the "harvest to order" concept to ensure that all fruits and vegetables are delivered fresh within 24 hours of harvesting to your doorstep. Choose from our wide range of fruits, vegetables, bread, cheese, oils, dips, sauces, etc.
Choose Healthier, Choose Fresher, Choose Better!